Latest News
Fiend Fyre Charmers on Facebook... LIKE THEM!
2013-06-01 (read more)


TCN on Facebook... LIKE US!
2012-09-01 (read more)


Michigan Based Stage Combat and Stunt Performance Troupe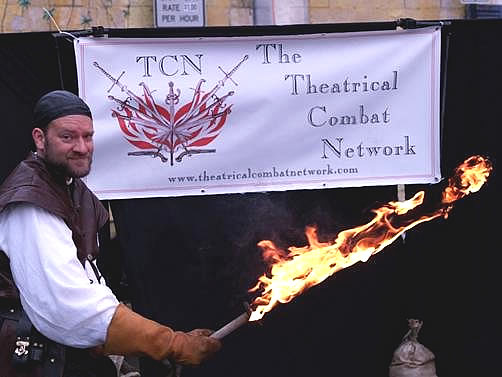 Think back to the last time you saw a fight movie in the theaters: Perhaps two duelists squared off at dawn, swords at the ready, and engaged in a daring and dramatic fight filled with flashing steel and witty repartee'. If you've seen something like that, you've seen what we do. Like in films, we can stage elaborate fight scenes. The only difference: We can do it in front of a live audience!
Formed in 2006, the Theatrical Combat Network brought together stage combat and stunt performers from around South Eastern Lower Michigan. In addition to bringing a variety of skills to the table, Theatrical Combat Network (TCN) also brings a variety of people. One of the over-riding goals in creating the group was to provide a supportive networking stage combat community where members, affiliates and friends can work together to take on large projects and create interesting work.
Our members have a variety of skills including weapons work, hand to hand skills, high-fall skills, as well as fire work, wire-work, and experience with stage firearms. We can help you create the scene, choreograph the action, and execute the fight to precision, time after time. We also offer shows featuring comedic dialogue and improv-style character performances. If you're looking to add stunts or fights to your production, or looking to liven up your next event. Call TCN, we provide cutting edge entertainment and skills for a wide variety of functions.